Each year, Canadian Business publishes a list of the best jobs in Canada. This data is gathered from information available through Statistics Canada and Employment & Social Development Canada.
Top jobs were determined by strongest job growth, highest salaries, and best opportunity for long-term employment.
Canadian Visa Expert is a private immigration service that helps foreign nationals who want to move to Canada to live and work.
The top ten jobs in Canada for 2017: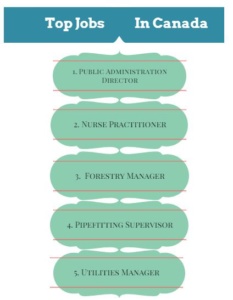 Public Administration Director
Nurse Practitioner
Mining & Forestry Manager
Pipefitting Supervisor
Utilities Manager
Telecommunications Manager
Real Estate & Financial Manager
Economic Development Director
Lawyer
Elevator Mechanic
While each person must decide on the job that best fits their skills, this report gives a picture of the jobs that are looking for new talent, which can mean better pay than some other types of work.
Canadian Visa Expert works with people from all over the world to help them move to Canada to find better employment opportunities. Contact them today to learn if you are eligible for one of the Canadian visa programs, and how you can get started on relocating to Canada to start a new life.