Karen Rojas relocated from Venezuela to the Eastern Townships eight months ago. She had no job leads, and she didn't speak English or French. She now has a job and is learning both languages at the Mont Sutton ski hill. Rojas participated in the "Earn While You Learn" program, along with 15 others. Mont Sutton piloted the program, along with the Eastern Townships School Board, and CEDEC, the employability organization. New employees at Mont Sutton were paid their wages during the ten weeks of all-day, intensive French classes to bring their language skills to a practical level for the beginning of the winter tourism season.
There are many benefits to living in Canada. The country supports immigrants with programs to help them integrate into society. Contact Canadian Visa Expert to apply for the required visa to live and work in the country. Their team of experts will walk you through the immigration process.
The program consisted of 300 class hours, which teach the employees words needed for their job. Rojas' started with words like fryer, mop, and dishwasher. She said her team and friends teach her new words. She said, "It's good because I can learn, I can work, I get paid." The new program came from Veronique Dumont, the Mont Sutton human resources coordinator. When she came on board, there were 85 open positions. She, along with many other employers, have trouble recruiting new employees. Dumont partnered with the school board and CEDEC, then applied to Services Quebec for the funding needed.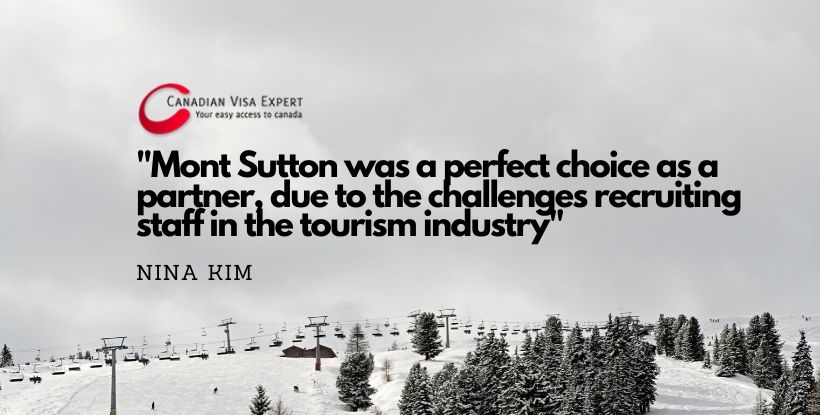 Dumont is happy to have the first participants in the program at the hill. The students are from different regions of the world. One is from Venezuela, one from England, and some from the village. A project manager at CEDEC, Nina Kim, said Mont Sutton was a perfect choice as a partner, due to the challenges recruiting staff in the tourism industry.
Contact Canadian Visa Expert to start a pathway to a better life. You will love living in such a welcoming country.